The Annual Plant Sale took place on May 21, 2022.
We hope to see you again in 2023.
This year the Master Gardener Association of Cape Cod returned to an in-person format for its Annual Plant Sale. Thanks to enthusiastic participation from the public, it was a great success.
Each year, Master Gardeners grow vegetables and herbs from seed and offer transplants of native plants and perennials from their own gardens and area nurseries. Hydrangeas and rhododendrons are offered as well.  Prices are good and plants are healthy.  Proceeds support our scholarship fund and community programs like the children's garden, backyard horticulture, and the horticultural hot-line.
Please join us next May.
Location: Cape Cod Fairgrounds, East Falmouth (get directions)
(East Gate (main gate) off Rte. 151)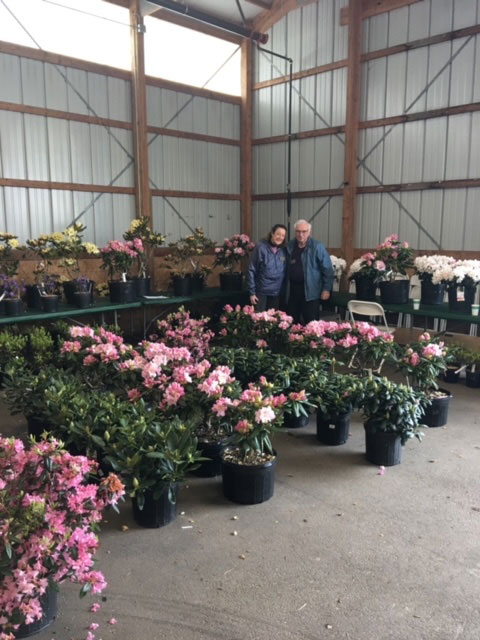 A selection of vegetable seedlings and culinary herbs will be for sale in 4-inch pots, plus perennials and choice varieties of rhododendrons and hydrangeas in gallon-sized pots. The edibles for sale will include tomato plants -- heirloom, cherry, slicers, container and paste varieties, as well as peppers - from sweet and juicy to hot and spicy - plus squash, zucchini, pumpkins and other vegetables and herbs.
Master Gardeners grow seedlings at home, transplant them into 4-inch pots, then transfer them to greenhouses for further growth. Volunteers have been busy preparing labels and descriptions for each plant to support buyers' success in their gardens. Trends show that gardeners, both new and experienced, will be looking for quality veggies and herbs along with flowers and shrubs this spring. Cape Cod's Master Gardeners are ready to provide them with what they need to enjoy the fruits of their labor all season long.
For more information about the Cape Cod Master Gardeners Association, potential customers should contact gardeners@barnstablecounty.org.